The DS-521BiS Agatha drum mower is driven by a modern four-stroke Briggs&Stratton 675 iS engine, the BDR-620DBiS Dorotha drum mower with a safety cover and the F-580BiS Hurricane MaX mulcher are power by a Briggs&Stratton 875 iS engine, all of the engines in the InStart version.
What is actually the INSTART?
is a technology of a primer, a starting battery and an automatic choke (ReadyStart), which is fully integrated into a mower/mulcher engine.
A part of the drum mower is a smart charger, which charges and keeps the battery in the best conditions at the same time. Just charge and clip in the battery and start with one touch of the button.
...charge it! ...clip it! ...mow!
Minimal 50 starts after full battery charging. According to the testing manages even 75 starts.
The battery is equipped with a diode indicator, so that you always know the charging level.
At the same time is the battery a safety element without which it is not possible to start the machine.
The battery is very small and lightweight, easy to carry in a pocket and to store at home. Placing the battery out of reach of the children, you can be sure they will not start the machine.
A full charge takes 60 minutes, but after 10 minutes it is possible to use the battery for 10 starts. 
One touch starting – the easiest starting ever.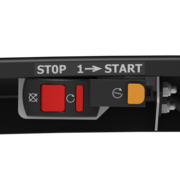 The starting panel of the machine with the INSTART technology is equipped with buttons for a safe start and safe switching off the engine.
The starting panel is placed directly on the guide handles, where the hand throttle is mostly situated.
No more pulling, no more priming, no more choking.
Comparison
AGATHA DS-521, DS-521B, DS-521Z
F-580 HURRICANE MAX

AGATHA DS-521BiS
F-580BiS HURRICANE MAX

hand starting – pulling the starting rope
ajudsting the engine revolutions – hand throttle

electric starting – push-button on a starting panel
no more choking
no more adjusting the working revolutions
Beginning from this year you will find the INSTART technology also in the VARI lawnmower range. The MP1 504 BiS lawnmower is equipped with a Briggs&Stratton 575iS engine with the electric starting.